Note:
the following poems were derived from or inspired by unwanted Spam e-mails and are taken from the author's on-going work
The Modem Is The Message
.

Videos Of Girls
Stiff winds blow court walls
where white haired women bathe;
hair piled high, vine roots rusted
in eyes that scour the prose rag
all tilt beds worn down and tasted.
And in comes the sun crow, timidly
drinking sulky cat sour milk sickness.
The Holiday For You

Hotel very clean no cockroaches at all.
towels provided most importantly
Britannia pub with widescreen nearby
and accurate sea views for hot lovers
literally lose yourself in our pillows, yes
amazing pirate adventure show twice daily
kids club for kids and water slide with water
food is colorful and lovely, even egg and chips
what an experience to remember
hey sexy! neat disco and flashing dancefloor
I can't emphaises enough the pleasure
you and your beloved will find on this hot holiday.
Pale Lesbians Bent Over

Joy puffs their work - these wives want their shine lakes sunny;
their neat habit shadows arise plucking holes done loudly.
Fact: two pale grown men sleep in silence, two groan men
in matching silk gowns, full of lamp-light wine; by the lake
true smoke eats the land, their wives together, hand in hand.
A You New
Bag in one hand and feeling
her features with the other
beneath the pulpit instillation
she abdicates the bedding
and murmurs "Save me. My hand is
black and blue from beating him off."
This Documents Has Been Moved
The store in town was sold out
all it had was one sub pixel
at the edge of the screen
a fraction of a dead girl
who went missing months ago
in these remote deciduous parts;
it saddened me to note that
she wasn't missed as much
as the lack of whisky in town.
Select An After Effect
You are
not to leave your
bedroom while we
are away.
Ben Myers 2007.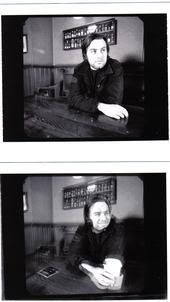 Ben Myers
is a writer. He lives in London. His recently-launched 'WEBLOG' can be found here:
http://benmyersmanofletters.blogspot.com